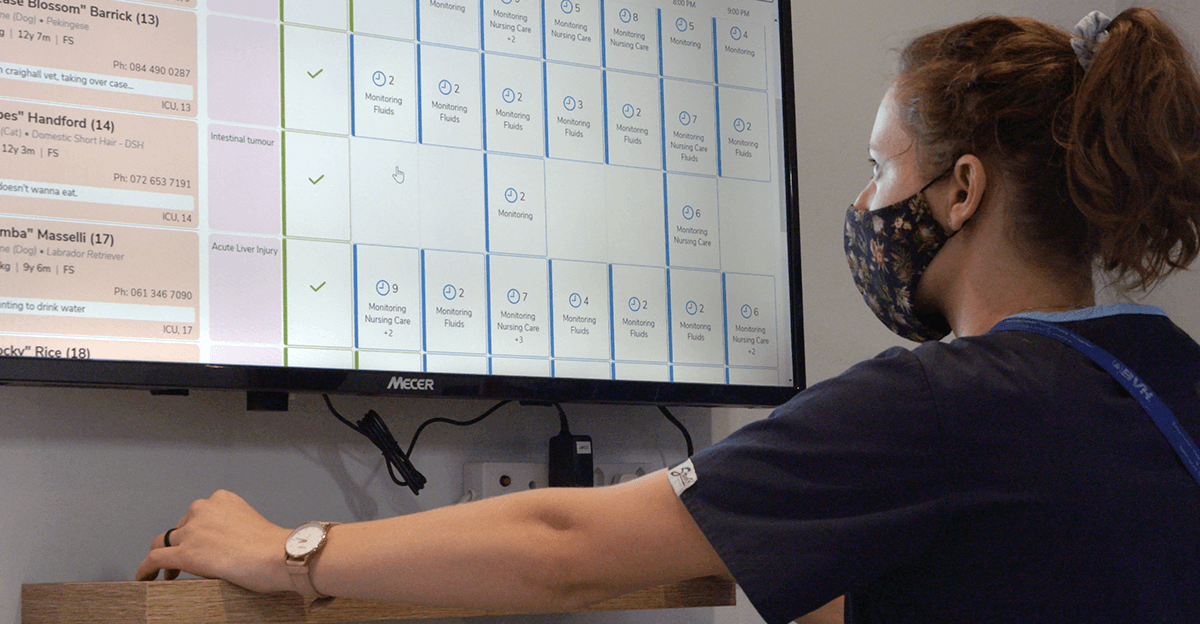 Over the last few decades, not much has changed for veterinary professionals in terms of daily work tasks. Patients still need to be admitted, examined, and treated; treatment sheets still need to be completed; payments still need to be collected.

What has changed is the way these tasks are completed. Instead of relying purely on raw manpower, today's veterinary practices have access to a smorgasbord of technological solutions that can be used to strengthen and optimize their organizational processes.

Ready to make better use of your time and staff resources? This article is for you. Here are four key workflows that can be made more efficient with Vet Radar.

1. Keep the team running like a well-oiled machine
It's tricky to keep your team functioning like a well-oiled machine when resources are stretched thin and priorities are constantly shifting. Vet Radar can simplify your organizational processes with its industry-leading electronic whiteboard, a modern workflow solution that enables staff to track hospitalized patients and access clinical information directly from their devices.
Practice leaders can use the whiteboard to assign each task in a treatment workflow to a specific task, ensuring that every step is completed according to your established processes. The whiteboard is also linked to your team's work schedule, which guarantees staff availability and eliminates schedule clashes. If handovers are involved, incoming staff can see at a glance the tasks that have already been completed, the tasks that they're responsible for, and the steps that need to be taken to progress a patient to the next stage of treatment.

Most hospitals display the whiteboard on a large TV screen so team members can monitor their tasks without checking their laptops or mobile devices. Using Vet Radar as a centralized directive can help you maintain order and ensure you're delivering a consistent standard of care.

2. Take the heavy lifting out of invoicing
It goes without saying that invoicing is a critical part of running a successful vet practice. However, accurately capturing every billable product and service is often easier said than done. When busy staff are pressed for time, it's all but inevitable that some mistakes are made along the way, whether it's an innocent typo, fluids not being tracked properly, or a diagnostic request slipping through the cracks. It's estimated that missed charges can cost the average veterinary practice as much as 5-10% of the clinic's annual revenue, which means you could be leaving tens or even hundreds of thousands of dollars on the table.
Vet Radar optimizes your invoicing processes by automatically invoicing all billable products and services that are administered in Vet Radar. Charges are captured regardless of who performed or administered the task, which means there's no risk of miscommunication between nurses, techs, vets, and receptionists. The charges captured in Vet Radar are automatically passed back to ezyVet and added to the client's invoice, eliminating double data entry and ensuring you're paid fairly and accurately for services rendered. And if the billable products are already set up in ezyVet you won't have to set them up a second time in Vet Radar, further reducing manual data entry.

3. Simplify the treatment sheet creation process
Creating treatment sheets for each individual patient is one of the biggest productivity bottlenecks for many veterinary practices. Writing out medication, doses and food schedules by hand can be extremely time-consuming, while illegible handwriting and transcription errors can increase the risk of error later in the patient's treatment journey. With paper treatment sheets, there are no reminders; staff must remember when to administer medication, which can also lead to errors, particularly when dealing with time-sensitive medicines.
To help you save time on the treatment sheet creation process, Vet Radar enables you to set up preconfigured electronic treatment sheet templates for all of your common procedures. The treatment sheet fields are automatically populated using information from the patient's clinical record in ezyVet, eliminating the need to manually enter information relating to medication, dose size, food schedule, walks, naps, and more. Doses are also calculated automatically based on dose rate and patient weight, while automated tasks ensure staff never forget to administer critical medication.
4. Hand over patients with confidence
Handing over a patient from one member of staff to another is one of the most precarious moments in a patient's treatment journey. While most practices do have processes in place to facilitate effective information sharing, the reality is that no method of manual communication is airtight. Whether it's a whiteboard, written clinical notes or a face-to-face conversation, there's always a chance of information slipping through the cracks, which can increase the risk of error and potential harm to patients.
Vet Radar helps reduce the risk of miscommunication by providing a central source of real-time information that every member of the team can access from any device, whether they're in clinic, at home, or on the road. Staff have full visibility of hospitalized patients at all times, including their clinical notes and medication history, which allows for information to be transferred between team members accurately and efficiently.

What's more, Vet Radar is fully mobile by design, which means staff don't need to sit down at a computer or liaise with colleagues to get patient updates - all the information is right there at their fingertips.

Schedule a Vet Radar demo
Ready to build more efficient workflows in your practice? Schedule a free Vet Radar demo and find out how Vet Radar can help you save time and drive business performance.